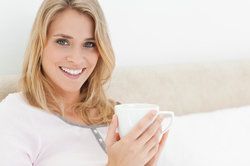 We here at The Centre for Reproductive Medicine believe that proper treatment goes beyond medical procedures. Total wellness is often the sure solution for patients who come to our Lubbock center, whether it's to undergo in vitro fertilization (IVF) or another type of advanced fertility treatment. We want to take this opportunity to consider how your diet can affect fertility treatment as well as the health of your baby.
Can my diet really affect the success of in vitro fertilization (IVF) treatment?
Yes, it can to some degree since overall health and wellness are crucial for improving fertility and ensuring a healthy pregnancy in general.
With this in mind, it's important to note that there is no magic bullet or fad diet that's going to ensure pregnancy or IVF success. The basics are often best, with special attention paid to certain vitamins and minerals and common sense advice you've heard throughout your life.
A Balanced, Healthy Diet Is Always Best
If it wasn't already obvious, the best option for patients is to have a healthy, balanced diet that is rich in fresh fruits and vegetables. Whole grains and healthy fats (e.g., fish, avocados, nuts) are very important as well. Junk food, saturated fat, empty calories, and unnecessary sugar should all be avoided or limited.
If you have any nutritional deficiencies or dietary restrictions, you may want to discuss these matters with your general practitioner or a nutritionist to make sure you can develop a diet plan that is best for you and your needs as well as the needs of your baby.
Magnesium Is Crucial for Fetal Health
Considered the hormone of pregnancy for women, magnesium helps ensure a healthy pregnancy and proper fetal development, reducing the risk of both miscarriage and birth defects. Studies have also shown that magnesium can prevent sudden infant death syndrome (SIDS).
Ideally, women who are pregnant should take about 320mg to 360mg magnesium a day. Foods rich in magnesium include:
Leafy greens
Whole grains
Almonds
Cashews
Sunflower seeds
Pumpkin seeds
Dark chocolate
Folic Acid Is Also Important for Fetal Development
Folic acid/folate is also an important factor in pregnancy to consider since it is key for cellular division and other important functions in the body. Research has shown that folic acid can prevent neural tube defects such as spina bifida, anencephaly, and encephalocele. These kinds of birth defects happen early on in fetal development.
Ideally, women who are pregnant should take about 400mcg to 1,000mcg of folate/folic acid a day. Foods rich in folate include:
Leafy greens
Broccoli
Beets
Okra
Liver
Kidneys
Bananas
Avocados
Reduce Caffeine Consumption
Research by the European Society for Human Reproduction and Embryology (ESHRE) has shown that excessive caffeine in your system can significantly lower your chances of getting pregnant and the success of IVF treatment. If a woman drinks five cups of coffee a day, that reduces success rates by 50%.
While five cups of coffee is a lot, it's important that women who are undergoing IVF treatment limit their caffeine intake as much as possible.
Don't Forget to Stay Well-Hydrated
Water is always key for good health, so be sure to stay well-hydrated throughout the day. Drinking water rather than sodas of fruit juice with added sugar is a sure way to help improve the chances of IVF success and a problem-free pregnancy.
Learn More About Improving Your Chances of Successful Fertility Treatment
If you would like more information about IVF and your many other options for addressing infertility, it's important that you contact our fertility specialists today. The team at The Centre for Reproductive Medicine looks forward to your visit and helping you with your various health care needs.